Is writing not your cup of tea, but still, you are required to do it? AI writing tools have got you covered effectively! These tools offer unmatched efficiency and aid in generating high-quality, error-free, and engaging content.
AI writing tools enhance language proficiency, cater to diverse writing styles, and help overcome writer's block. As a result, businesses benefit from increased productivity and improved content marketing strategies, while individuals enjoy streamlined writing processes.
How Do AI Writing Tools Make the Task Easier?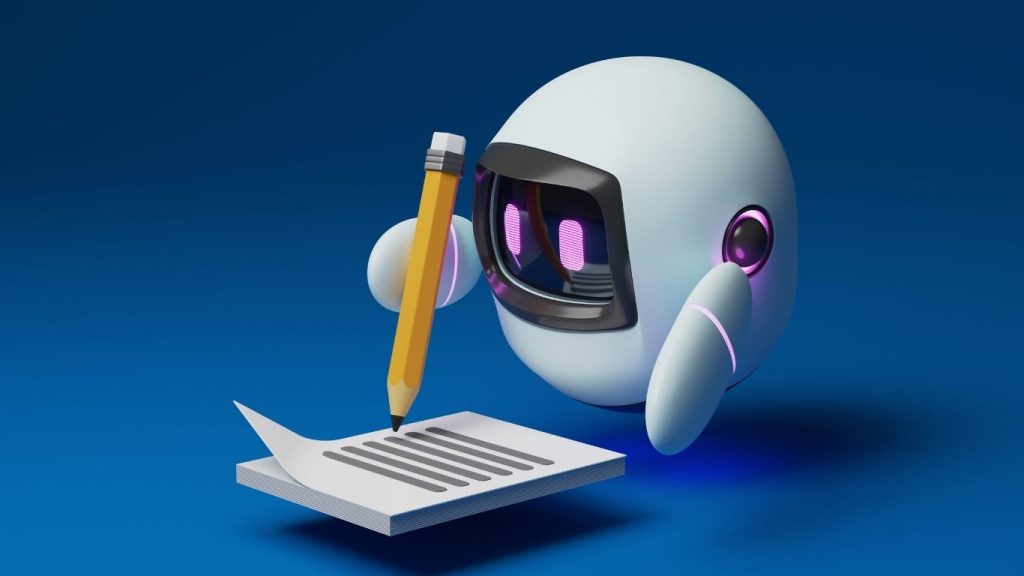 Embracing paid or free AI writing tools opens up a world of possibilities, propelling communication to new heights. Here is how it benefits the writers:
Time-saving: Best writing tools online automate various writing tasks, significantly reducing the time required to produce content.
Improved quality: AI-powered grammar and spell-checkers enhance written material's overall quality and accuracy.
Enhanced creativity: AI can offer suggestions and inspiration, helping writers overcome creative blocks and explore new ideas.
Personalization: AI tools can adapt to individual writing styles, making content creation more tailored and relatable.
Data analysis: AI tools can analyze data and generate valuable insights, facilitating data-driven content strategies.
Content optimization: AI can suggest keywords and optimize content for SEO, boosting online visibility and traffic.
Editing assistance: AI can review and suggest improvements to existing content, streamlining the editing process.
Cost-effective: AI tools eliminate the need for hiring additional writers or editors, reducing overall expenses.
29 Best AI Writing Tools
Here is a list of the best AI writing tools that will change your work/student life for good:
Jasper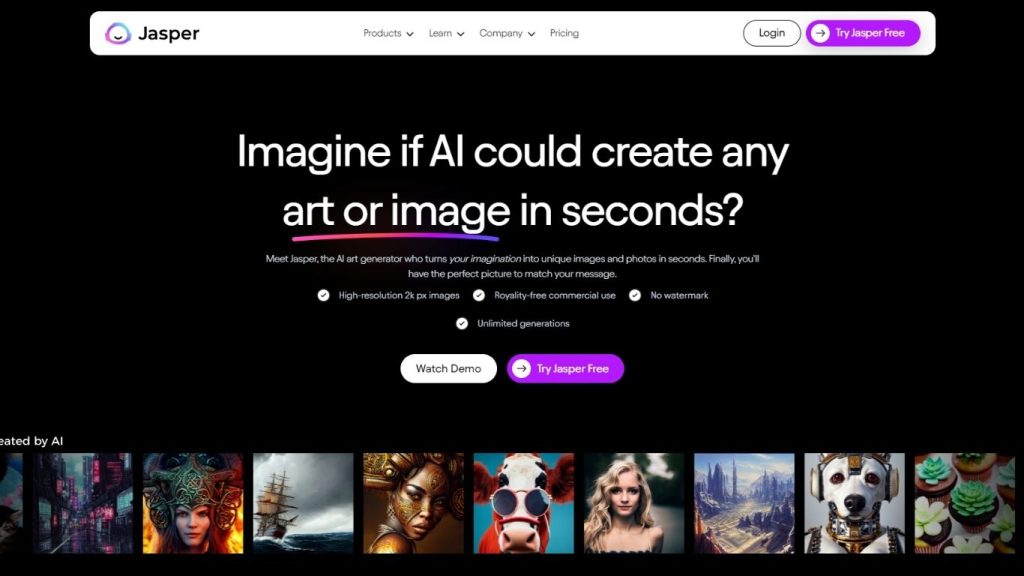 Jasper is an AI writing tool equipped with various powerful features that streamline content creation processes. Its intuitive interface caters to writers and businesses, enhancing productivity and efficiency.
Features: Jasper boasts diverse features designed to enhance writing experiences. Its user-friendly interface, grammar and spell-check capabilities, content optimization for SEO, multilingual support, and creative assistance make it a valuable AI tool for writers seeking efficient and high-quality content creation.
Cost: It has a free trial version and costs $29 monthly for the basic version.
G2: 4.7/5 (1220+ reviews)
Capterra: 4.8/5 (1820 reviews)
Reedsy Book Editor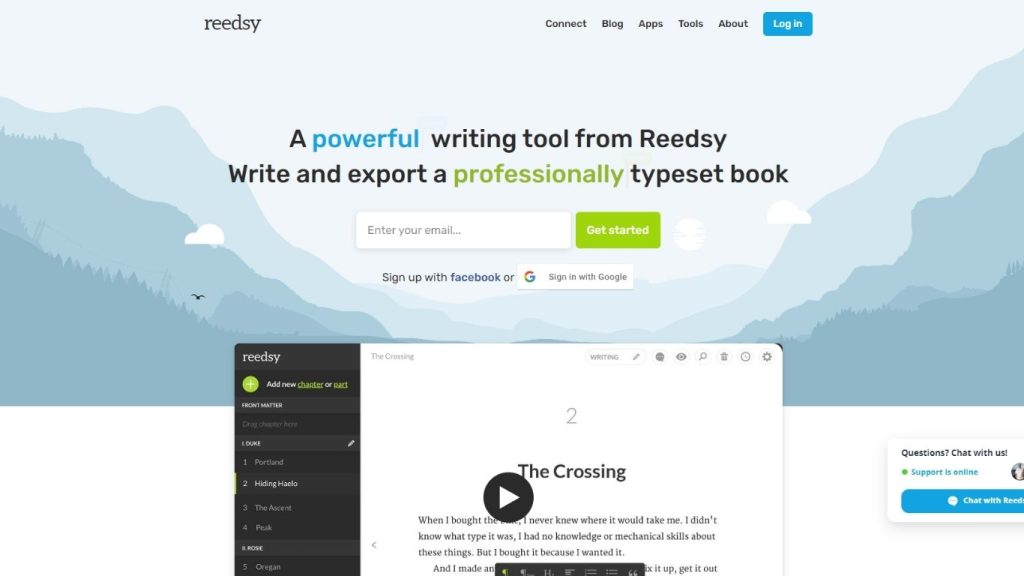 Reedsy Book Editor is a versatile, user-friendly, and one of the best online writing tools tailored for authors and publishers. This intuitive platform empowers writers to craft professional-grade books effortlessly.
Features: Its key features include a distraction-free interface, real-time collaboration, and version history for seamless team editing. The editor provides comprehensive formatting options, ensuring books meet industry standards. Authors can import and export their works in various formats and on any device with internet access.
Cost: $6,000 per month
G2:4.5/5 (1+ reviews)
Capterra: Not Available
ChatGPT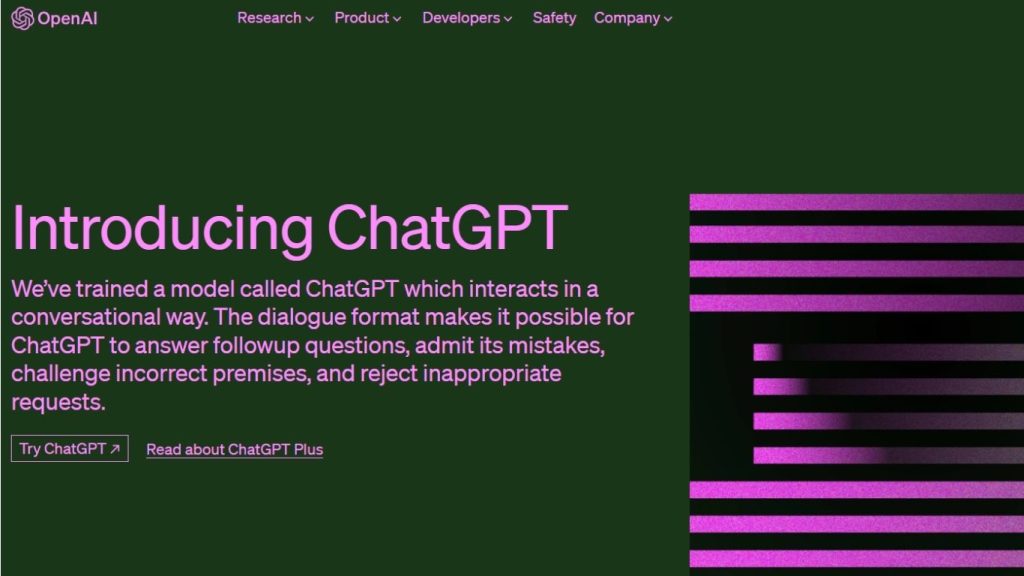 ChatGPT is an advanced language model developed by OpenAI, designed to engage in natural and interactive conversations with users. It leverages the power of GPT-3.5 architecture to provide intelligent responses and address a wide array of queries across multiple domains.
Features: Its features include context awareness, enabling it to maintain coherence and relevance during extended conversations. ChatGPT can generate creative text, explain, and simulate different writing styles.
Additionally, it can be integrated into various applications, offering personalized and interactive experiences.
Cost: $20 per month however, you can still try your hand at its free version.
G2: 4.7/5 (292 reviews)
Capterra: 4.5/5 (22+ reviews)
Mellel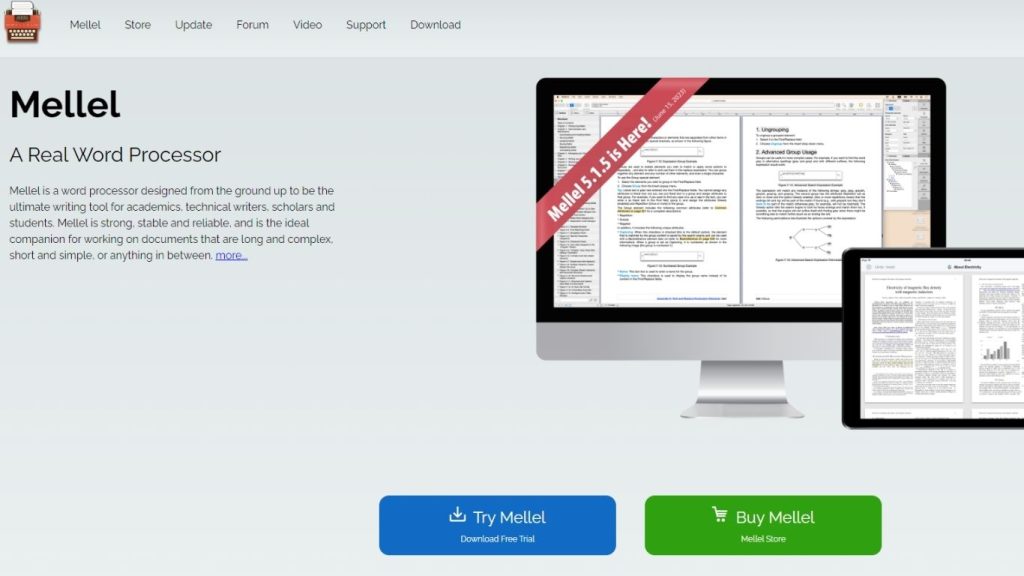 Mellel is a powerful word processing software designed for Mac users, primarily focused on academic and professional writing. Its unique features cater to the needs of researchers, authors, and scholars.
Features: Mellel offers multilingual support, enabling users to work seamlessly with right-to-left languages and complex scripts. The software provides advanced outlining and organization tools, making it ideal for structuring lengthy documents.
With its strong focus on academic writing, Mellel has gained popularity as a reliable and efficient tool for complex, large-scale writing projects.
Cost: It has various pricing options. Its full-featured version costs $49, whereas an educational discount can make it $39. Mellel + Bookends Combo (reference managing app) will cost you $89. You can upgrade to the latest version of Mellel by just paying $29.
G2: Not Available
Capterra: Not Available
Zoho Writer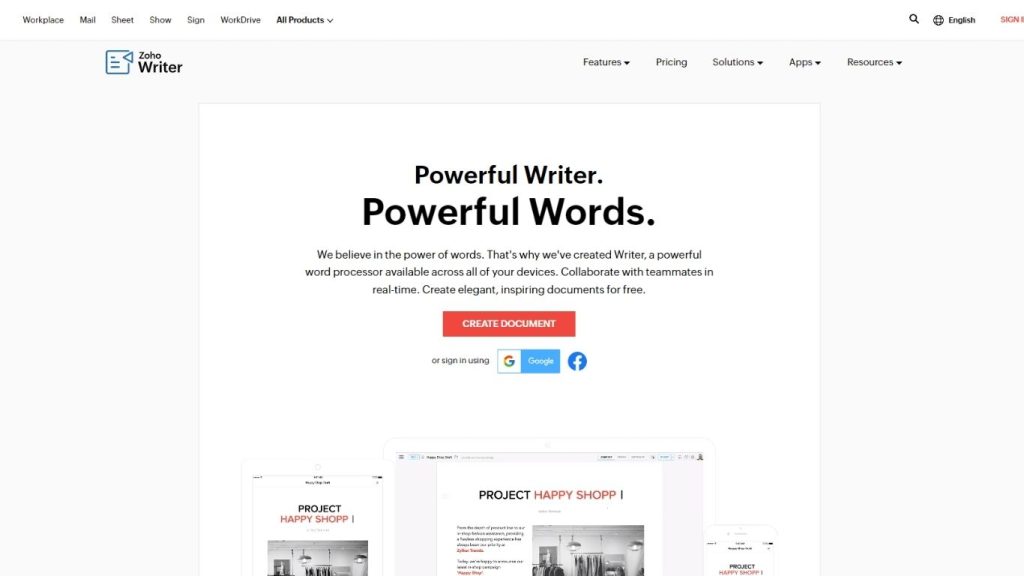 Zoho Writer is a feature-rich online word-processing application that offers a seamless writing experience for individuals and businesses.
Features: With its intuitive and user-friendly interface, Zoho Writer enables collaborative editing and real-time collaboration, making it ideal for teamwork. The platform provides various formatting options, allowing users to customize their documents easily.
Zoho Writer also supports various file formats for easy importing and exporting. Its integration with other Zoho apps and third-party services enhances productivity and simplifies workflow management.
Cost: Zoho Writer does not provide pricing options since it's a common practice among writing tools online.
G2: 4.7/5 (92+ reviews)
Capterra: 4.5/5 (32+ reviews)
Google Bard
Google Bard is one of the most known AI chatbots and content writing tools. Its human-like understanding of the questions asked makes it stand out among the writer's tools.
Features: Google Bard is programmed to perform text-based tasks. It can aid the creation of diverse content, summarize text, and accurate translation from one language to another.
Cost: It is free unless you want to switch to the paid version.
G2: 4.3/5 (18+ reviews)
Capterra: Not Available
Best Content Editing Tools
Grammarly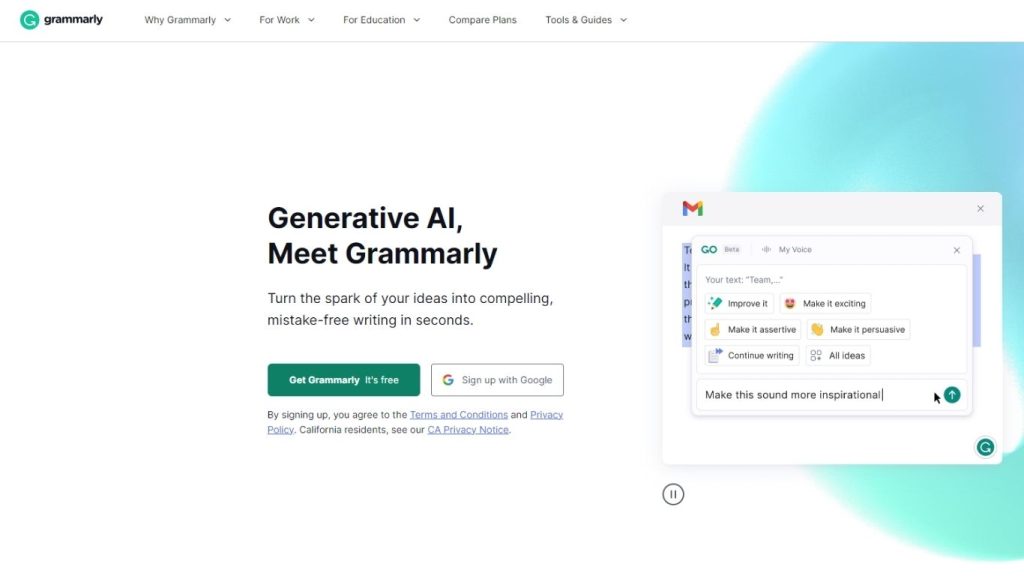 Grammarly is an advanced AI-powered writing assistant that has gained immense popularity among writers, students, and professionals.
Features: Its features include real-time grammar and spelling checks, ensuring error-free writing. Grammarly also suggests sentence structure, word choice, and style improvements, enhancing clarity and coherence.
The tool's plagiarism checker helps maintain originality by scanning content for similarity to other sources. Additionally, Grammarly offers a tone detector, making it easier to tailor the writing style to the intended audience.
Its browser extension, integrations with various platforms, and multi-device support make Grammarly an indispensable tool for anyone seeking to improve their writing and communication skills.
Cost: Its basic version is free. While the premium version costs $12 per month, and the business version is $15 per month.
G2: 4.7/5 (4,330 + reviews)
Capterra: 4.7/5 (6908 + reviews)
ProWritingAid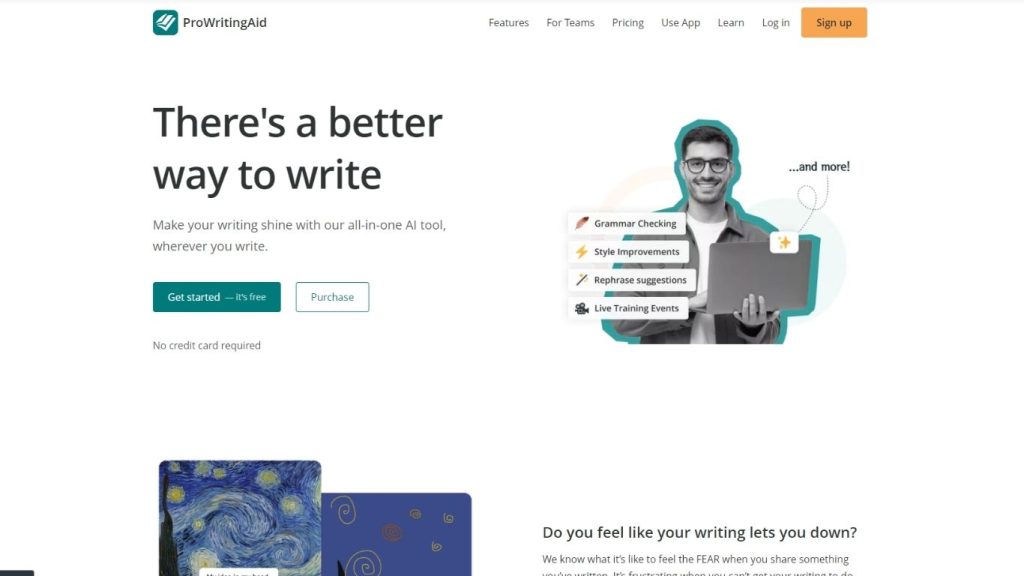 ProWritingAid is a comprehensive writing tool designed to assist authors, students, and professionals refine their work.
Features: With an array of features, it offers an in-depth analysis of grammar, spelling, and punctuation errors in real time. The software goes beyond basic checks, providing insights into readability, sentence structure, and writing style.
Its unique integration with thesaurus and dictionary aids in vocabulary enhancement.
Cost: It has a free version, but you can switch to a premium one by paying $10 monthly.
G2: 4.5/5 (40+ reviews)
Capterra: 4.6/5 (435 + reviews)
Hemingway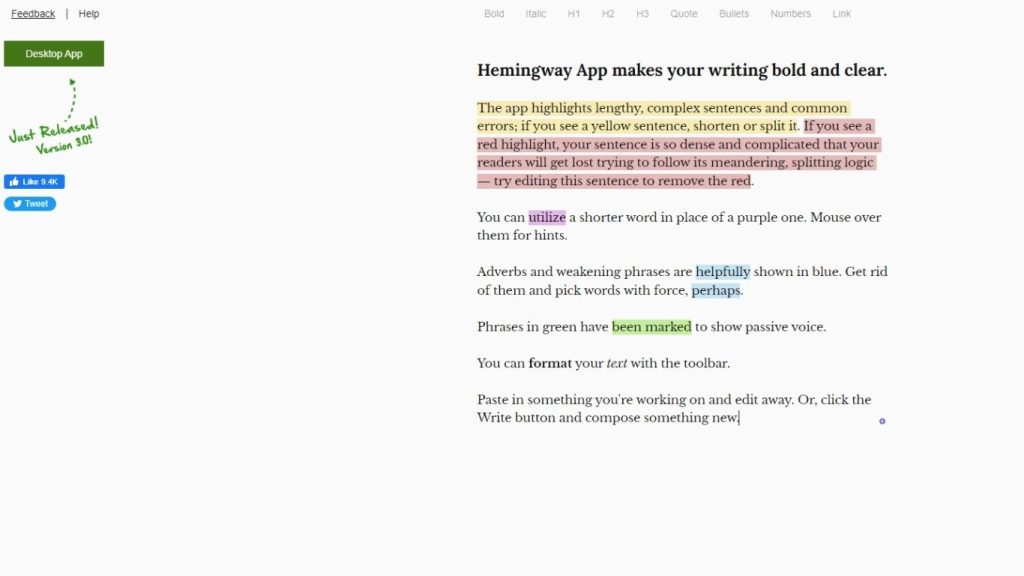 Hemingway is a popular writing tool named after the renowned writer Ernest Hemingway, known for his straightforward and concise writing style.
Features: The Hemingway Editor app analyzes text to provide valuable insights and improve readability. It highlights complex sentences, passive voice, adverbs, and hard-to-read phrases, allowing users to streamline their writing for clarity and impact.
The tool assigns a readability grade, guiding writers to achieve a more accessible and engaging writing level.
Cost: $19
G2: 4.4/5 (46+ reviews)
Capterra: 4.4/5 (11+ reviews)
WebFX – Readability Test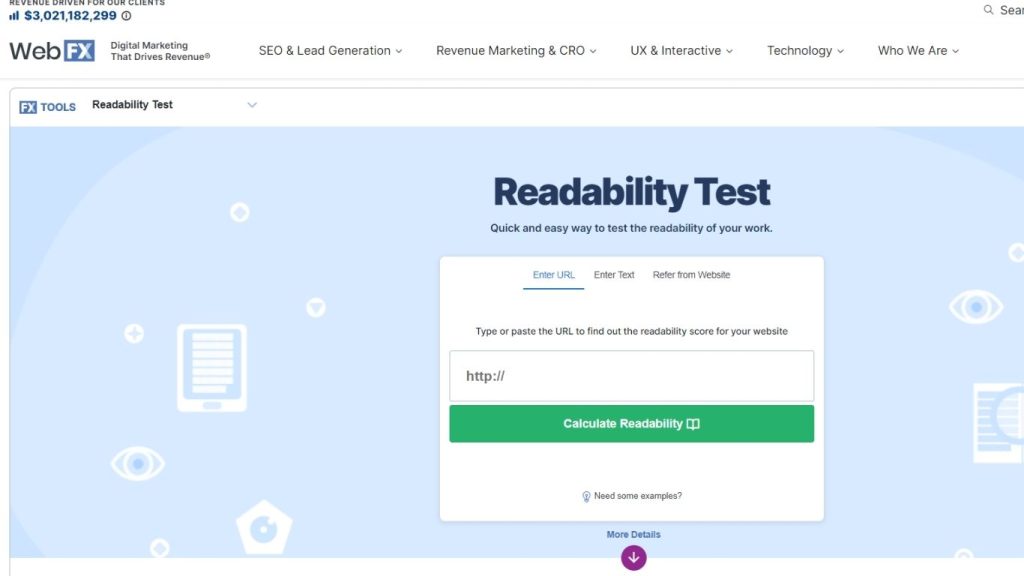 WebFX- readability test is programmed to check the readability of your content.
Features: Its user-friendly interface makes it easier to use. It gives readability scores to your content and helps you improve it. This tool best suits usability assessors, developers, copywriters, marketers, or SEO experts.
Cost: It is free to use!
G2: Not available
Capterra: 5/5 (238+ reviews)
Best Organization Tools
Evernote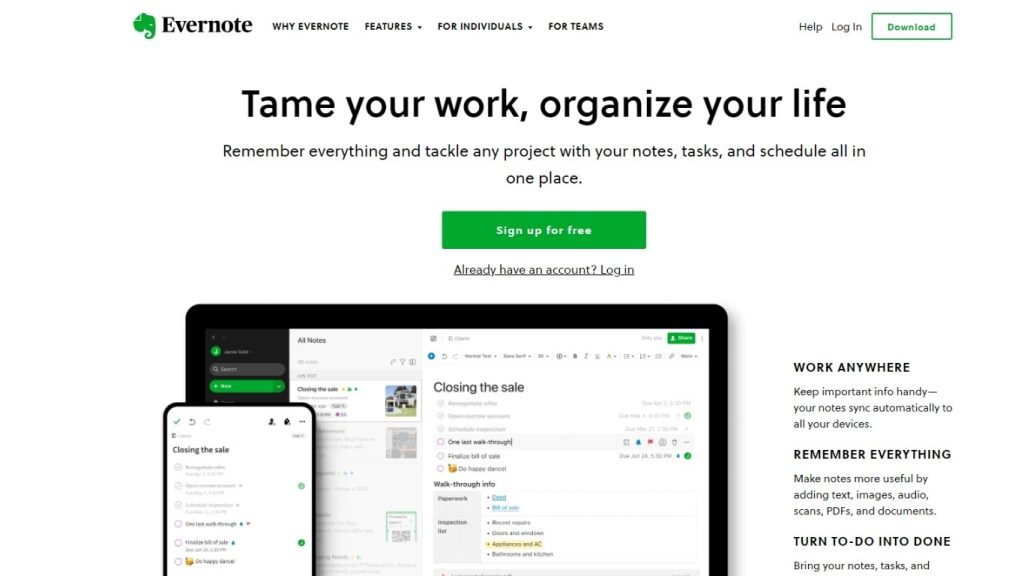 Evernote is a versatile note-taking and organization app designed to help users capture and manage their ideas, notes, and information across different devices.
Features: Its key features include creating notes in various formats, such as text, images, and audio, enabling users to capture information in multiple ways. Evernote offers robust organization tools, allowing users to categorize and tag notes for easy retrieval. The app's powerful search functionality makes finding specific information a breeze.
Cost: It has a free version, and you switch to the premium version for $7.99 monthly.
G2: 4.4/5 (1996+ reviews)
Capterra: 4.4/5 (8095 + reviews)
Ulysses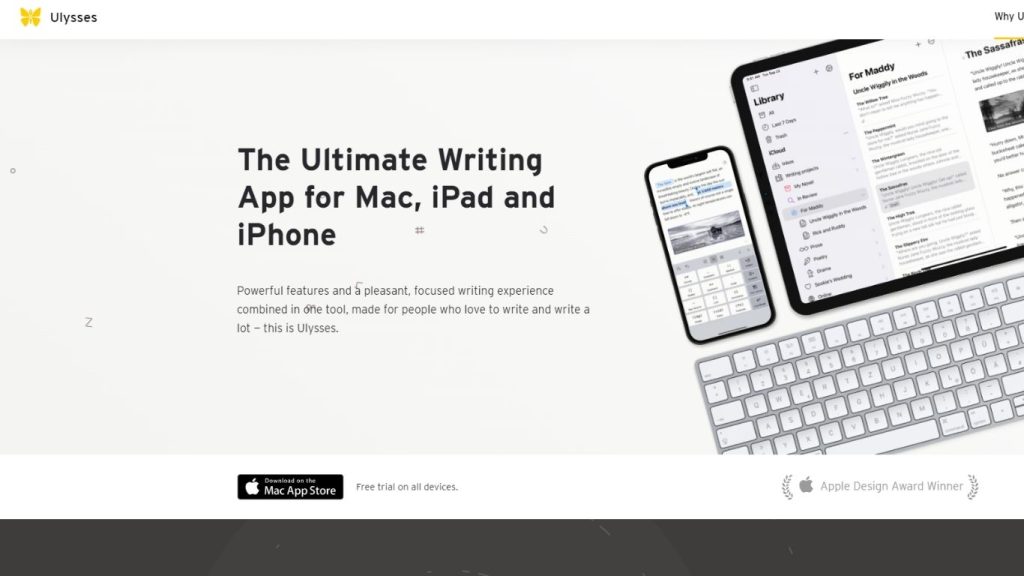 Ulysses is a feature-rich writing app tailored for writers and authors. Its minimalist interface allows users to focus solely on their writing, eliminating distractions.
Features: Ulysses offers a unique "library" system to organize and manage writing projects effortlessly. Support for Markdown allows writers to format text efficiently without complex formatting tools.
The app features a powerful export function, providing options to convert documents to various formats, making it versatile for publishing.
Cost: You can access it at just $5.99 per month.
G2: 4.5 /5 (23+ reviews)
Capterra: 4.8/5 (11+ reviews)
Scrivener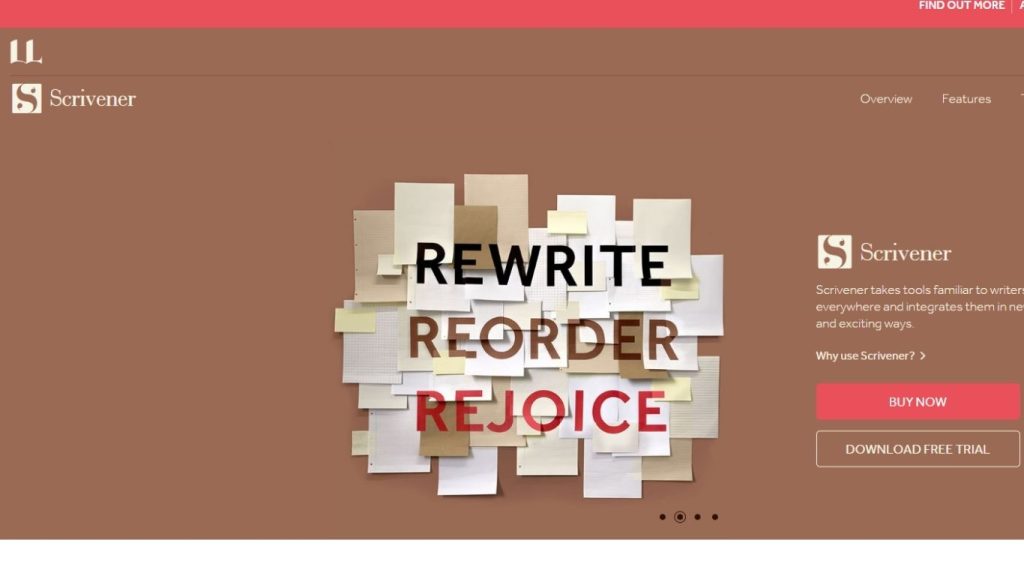 Scrivener is a comprehensive writing software designed for authors, screenwriters, and researchers.
Features: Its key features include a versatile writing interface that allows users to organize their writing into a hierarchical structure, making it ideal for complex projects. With its corkboard and index cards, users can visualize and rearrange sections of their work easily.
Scrivener also offers a robust research tool, allowing writers to store reference materials and research notes directly within the application.
Cost: Its standard license will cost you $59.99, while an educational license only for students and academics costs $50.99.
G2: 4.5/5 (81+ reviews)
Capterra: 4.7/5 (187+ reviews)
Milanote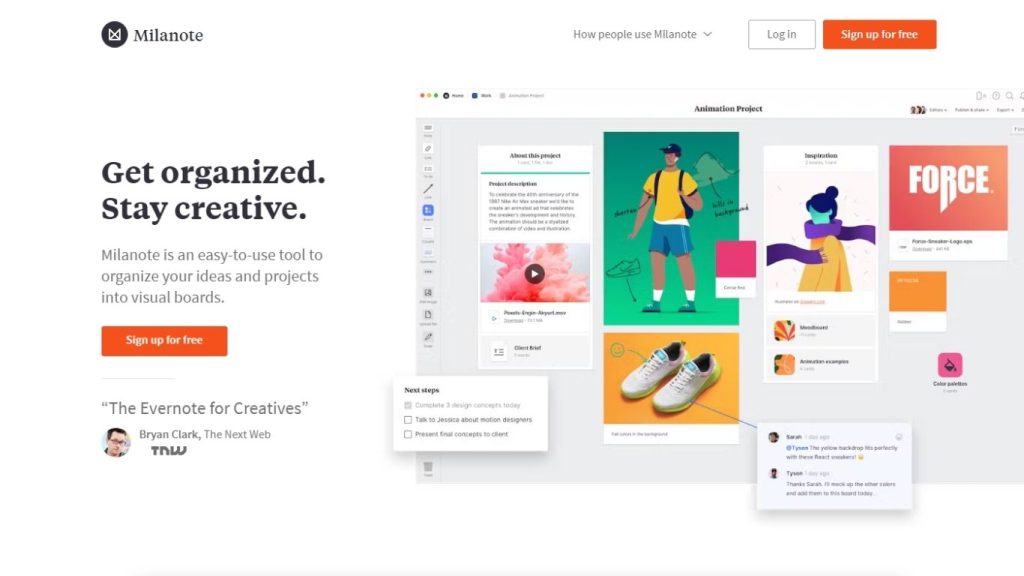 Milanote is an intuitive and visually appealing tool for creative professionals, teams, and students. It offers a versatile digital workspace that allows users to organize ideas, brainstorm, and collaborate effectively.
Features: Milanote's flexible canvas enables users to create boards for various projects, combining images, text, links, and notes seamlessly. Its drag-and-drop interface makes arranging and rearranging content easy, fostering creativity.
The tool's integration with popular applications like Evernote and Dropbox ensures smooth data synchronization.
Cost: You can sign up for a free version or pay $9.99 for individual use. Whereas for team usage, you will have to pay $49.
G2: 4.5/5 (41+ reviews)
Capterra: 4.7/5 (56+ reviews)
Best Productivity Tools (For Writing Projects)
Ommwriter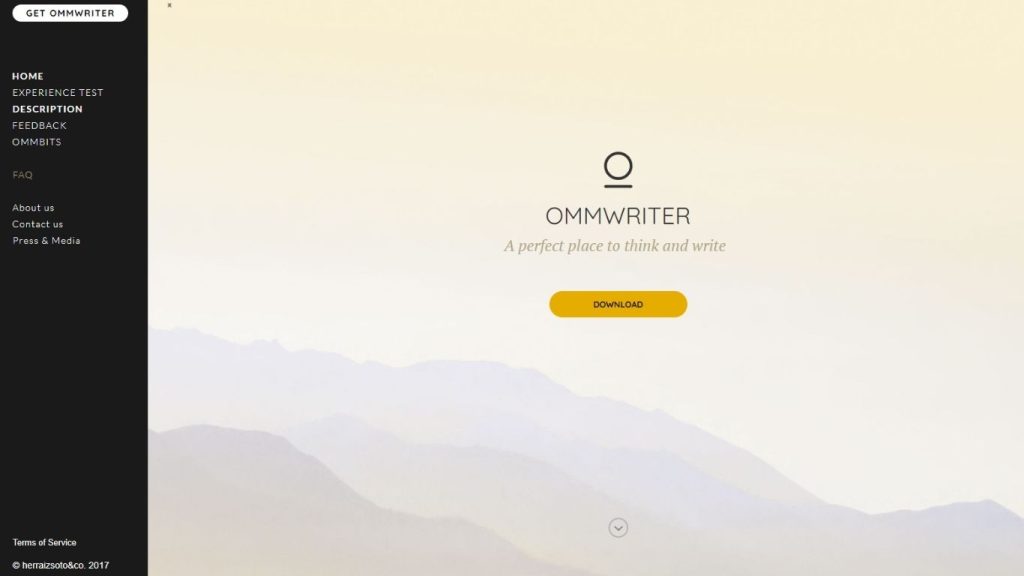 Ommwriter is a unique and immersive writing application providing a serene and distraction-free environment. Its minimalist design allows writers to focus solely on their words, promoting creativity and flow.
Features: The app offers a selection of soothing background sounds to enhance concentration. Ommwriter's customizable typing sounds add a touch of nostalgia, creating a more engaging writing experience.
The tool supports multiple file formats, making it easy to export and share work across various platforms.
Cost: The minimum cost of Ommwriter is $7.78, while the average can be $10.11.
G2: 4/5 (4+ reviews)
Capterra: 4.8/5 (16+ reviews)
Freedom
Freedom is a productivity and digital wellness tool designed to help users reduce distractions and focus on tasks. With its unique features, Freedom empowers individuals to block distracting websites, apps, and social media platforms, creating a more focused work environment.
Features: It offers customizable schedules, enabling users to set specific time blocks for deep work and relaxation. Freedom's sync functionality allows seamless integration across devices, ensuring distraction-free productivity.
The tool also provides usage statistics, helping users understand their digital habits and make informed decisions.
Cost: It has three payment plans, i.e., a monthly plan at $8.99 per month, a yearly for $3.33 per month, and forever costing $99.50 once in a lifetime.
G2: 5/5 (4+ reviews)
Capterra: 4.8/5 (55+ reviews)
Google Docs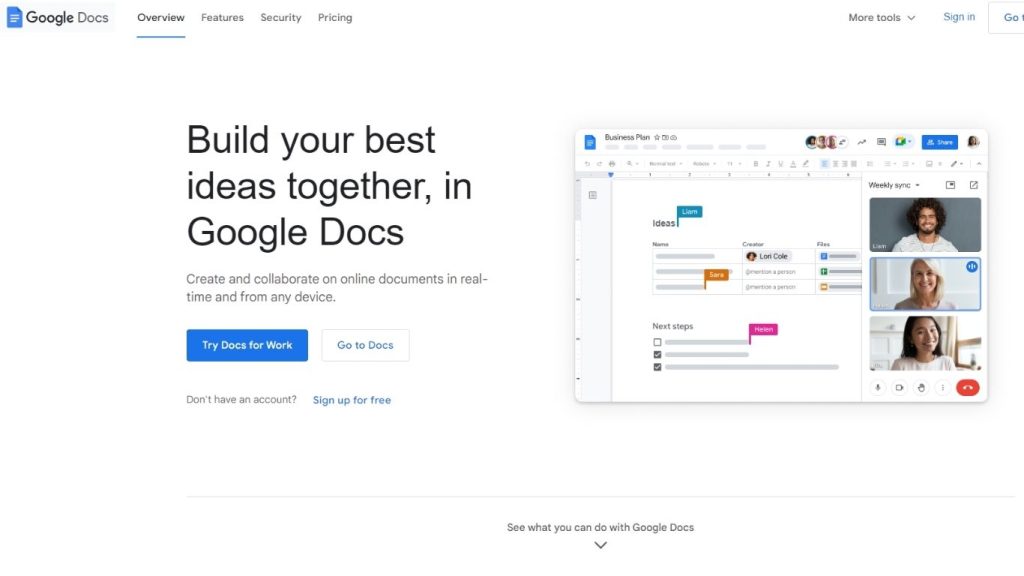 Google Docs is a powerful online word-processing application with many features for seamless collaboration and productivity.
Features: Its real-time editing and commenting features allow multiple users to collaborate on the same document simultaneously, making it ideal for team projects. Google Docs provides automatic saving, ensuring users never lose their work.
The platform offers diverse formatting options, making it versatile for creating various document types. With its cloud-based nature, Google Docs enables users to access and edit their documents from any device with an internet connection.
Cost: Its business starter version costs $6, the business standard version is $12, and the business plus is $18.
G2: 4.6/5 (84+ reviews)
Capterra: 4.7/5 (27762+ reviews)
Thesaurus.com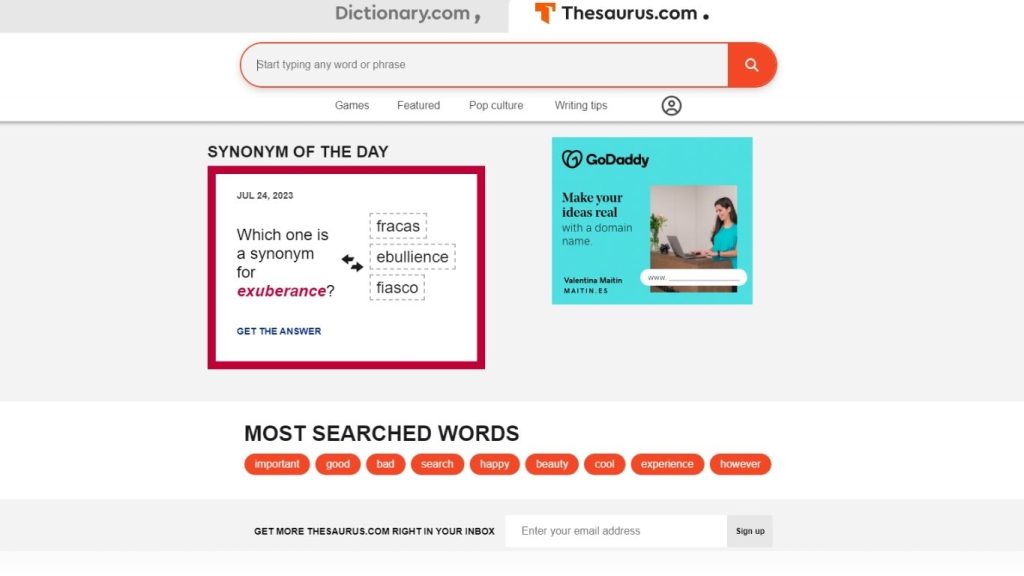 Thesaurus.com is a popular online language reference tool that aids writers, students, and language enthusiasts.
Features: Its key feature is an extensive database of synonyms and antonyms, allowing users to find alternative words to enhance their writing and enrich their vocabulary. Thesaurus.com provides example sentences and word usage, aiding in understanding context and proper usage.
It also offers translations, making it helpful for language learners and multilingual users. The tool's user-friendly interface and quick search functionality ensure swift access to many words and their meanings.
Cost: It is Free!
G2: Not Available
Capterra: Not Available
To Doist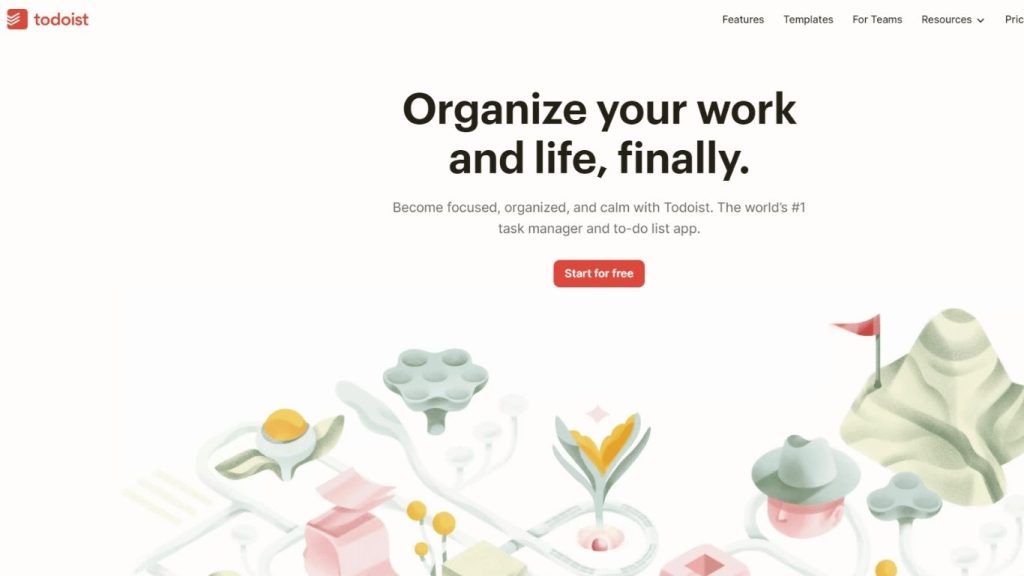 Todoist is a popular task management app that helps users organize and prioritize their to-do lists effectively.
Features: Its user-friendly interface and intuitive design make creating and managing tasks across various projects and categories easy. With features like due dates, reminders, and recurring tasks, Todoist ensures users never miss a deadline. It offers task labels, priorities, and filters for seamless organization and tracking.
Cost: You can start for free and upgrade to a pro plan for $4 monthly and a business plan for $6 monthly.
G2: 4.4/5 (758+ reviews)
Capterra: 4.6/5 (2270+ reviews)
Noisli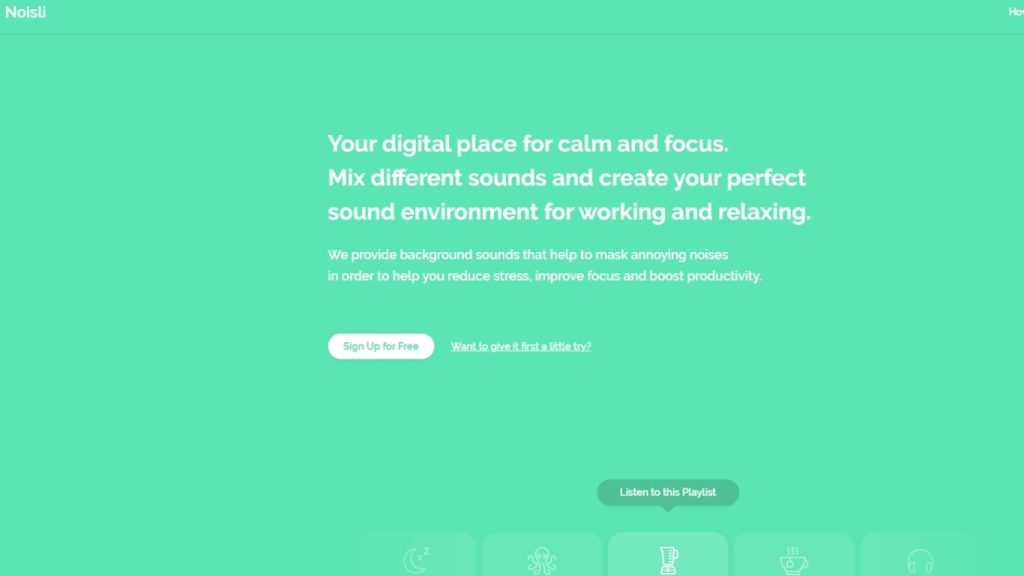 Noisli is a popular app and website that provides ambient sounds and background noise to improve focus, concentration, and relaxation.
Features: Its key features include a variety of high-quality soundscapes, including rain, forest, white noise, and more. Users can mix and match different sounds to create personalized environments that suit their preferences.
Noisli offers a distraction-free text editor, making it an excellent tool for writers seeking a serene writing space. With its timer and productivity features, Noisli helps users manage time effectively and enhance productivity.
Cost: You can use the basic version for free. You can switch to a pro plan for just $10 for added features and individual use. While a business plan for teams costs $24.
G2: Not Available
Capterra: Not Available
The Most Dangerous Writing App: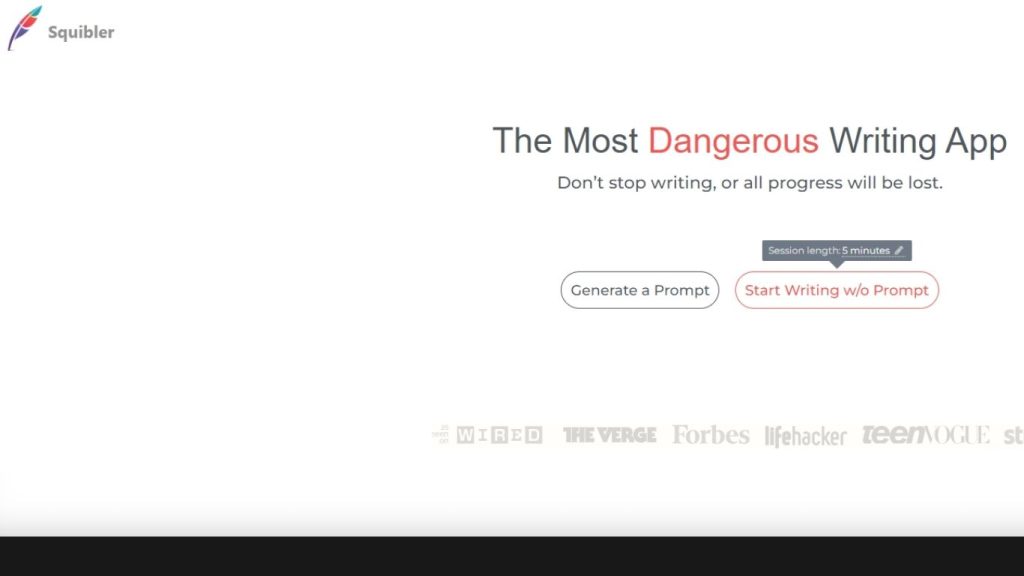 The Most Dangerous Writing App is among the unique online writing tools designed to overcome writer's block and foster creativity.
Features: Its key feature is the "dangerous" concept – if the user stops writing for over a few seconds, the text begins to fade. This pressure encourages writers to keep going without distractions, promoting a flow state and pushing them to break through creative barriers.
The app offers adjustable time intervals for writing sessions, customizable word count goals, and the ability to save or export the final text.
Cost: Its cost is not mentioned, as it is a common practice among tools for a writer.
G2: Not Available
Capterra: Not Available
Best Content Research Tools
BuzzSumo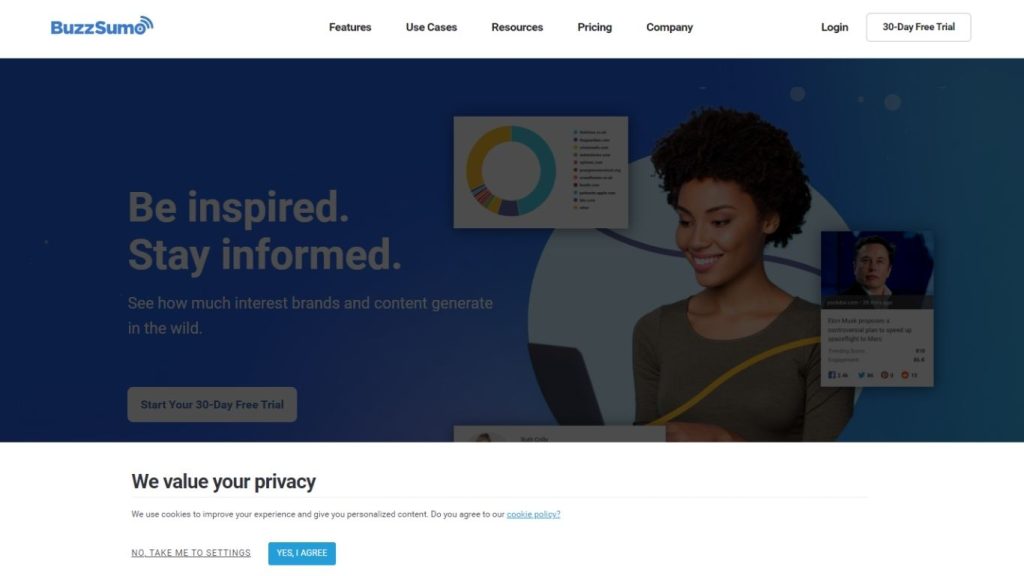 BuzzSumo is a powerful content marketing and social media tool that enables users to discover trending topics, analyze content performance, and identify influential influencers.
Features: Its key features include the ability to search for popular content across various platforms, helping users generate fresh ideas and stay up-to-date with industry trends.
BuzzSumo offers in-depth insights into social media engagement, backlinks, and content shares, aiding users in crafting data-driven content strategies. It also allows users to track competitors and monitor mentions, providing a comprehensive view of their online presence.
Cost: It has five pricing options, i.e., basic version for $119, content creation for $249, PR and Comms for $249, and Suite for $499.
G2: 4.5/5 (101+ reviews)
Capterra: 4.5/5 (140+ reviews)
AnswerThePublic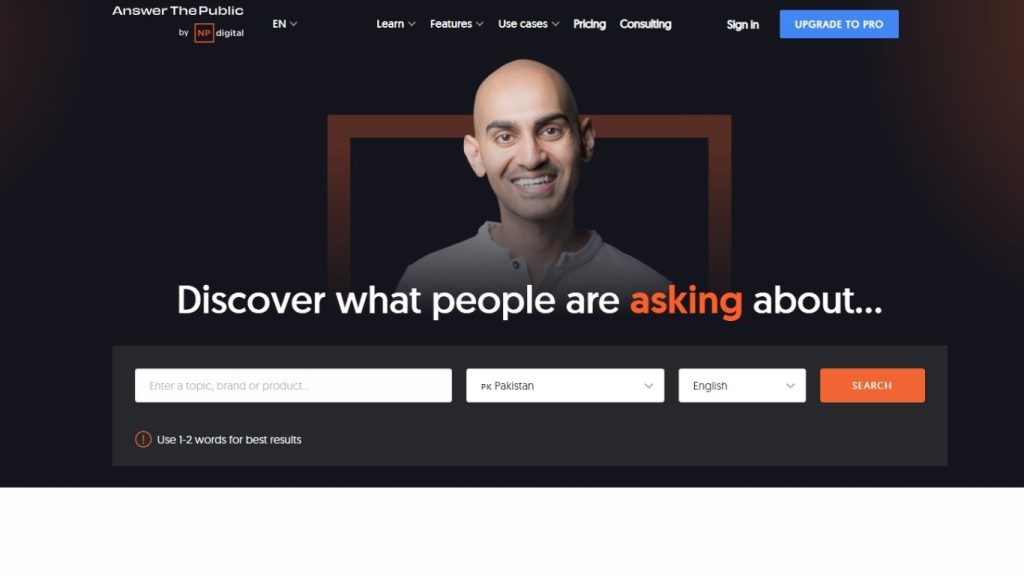 AnswerThePublic is a powerful keyword research tool that offers valuable insights into the questions and queries people search for on the internet.
Features: Its key features include generating data visualizations through a search cloud or question wheel, making identifying popular topics and content ideas easy. AnswerThePublic provides many long-tail keyword suggestions, aiding content creators in crafting highly relevant and targeted material.
Users can filter results based on language and location, allowing for targeted research for specific markets. With its ability to uncover customer concerns and interests, AnswerThePublic has become a tool for SEO and content marketing strategies.
Cost: Its basic version is available for $9, pro for $49, and expert for $99 monthly. You can also enjoy its seven days free trial.
G2: 4.5/5 (30+ reviews)
Capterra: 4.6/5 (10+ reviews)
Google Scholar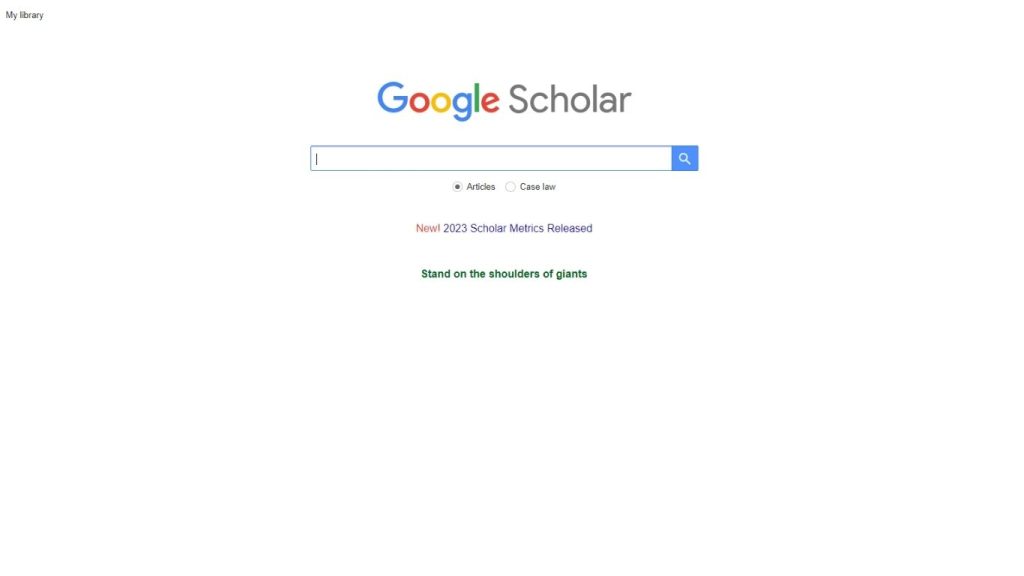 Google Scholar is a freely accessible web search engine developed by Google, specifically designed for academic content.
Features: Its key features include the ability to search and access scholarly articles, theses, books, and conference papers across various disciplines. Google Scholar offers advanced search options, citation tracking, and related article suggestions, making it easier for researchers and students to find relevant and reputable sources.
The platform provides metrics like citation counts and h-index to measure the impact and influence of scholarly work. With its vast database of academic literature, Google Scholar has become an invaluable resource for academics worldwide.
Cost: It is free!
G2: Not Available
Capterra: Not Available
Citation Machine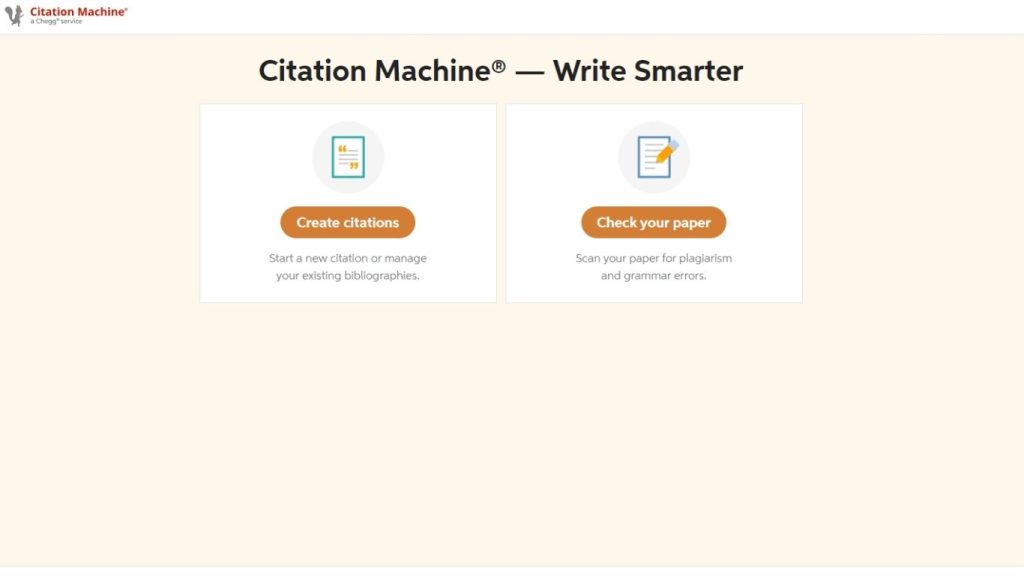 Citation Machine is a user-friendly online tool that simplifies creating accurate citations and bibliographies in various citation styles.
Features: Its key features include the ability to automatically generate citations for books, articles, websites, and other sources by entering relevant information or using a URL. Citation Machine supports popular citation styles such as APA, MLA, Chicago, and more, ensuring proper formatting and adherence to academic guidelines.
The platform also offers an option to create in-text citations for smoother integration within the text.
Cost: Its monthly subscription costs $9.95.
G2: Not Available
Capterra: Not Available
Quora & Reddit Search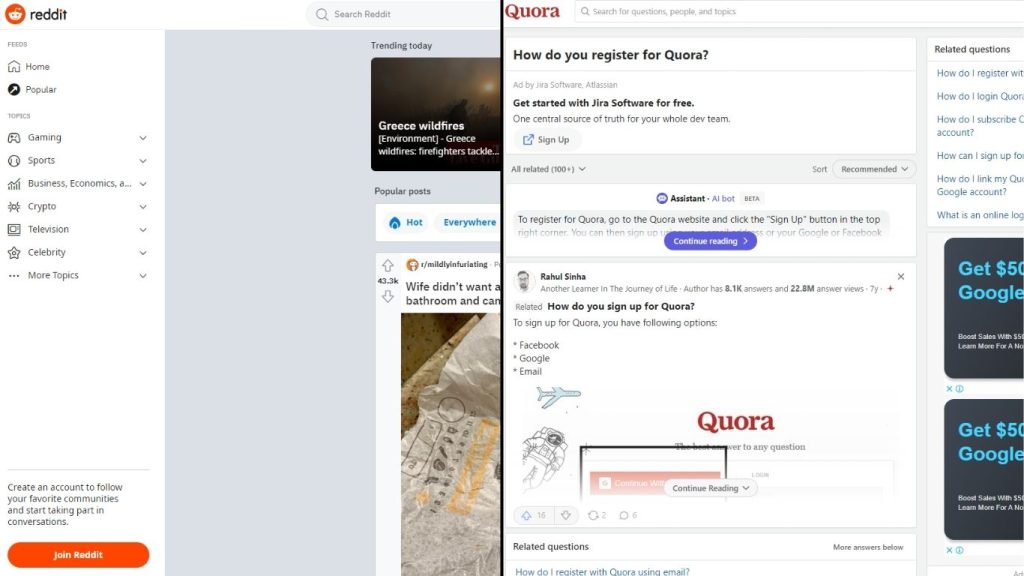 Quora and Reddit are popular question-and-answer platforms that offer search functionalities to find relevant discussions and information.
Features: Quora's search feature allows users to explore a wide range of questions and answers on diverse topics. It presents results based on relevancy, popularity, and user engagement, providing a comprehensive view of community-driven knowledge.
Reddit's search function enables users to get into an extensive collection of threads and discussions across various subreddits. It offers filters to narrow down results by relevance, time, and popularity, making it easier to find specific information or join ongoing conversations.
Cost: You can get a Quora membership for $6.99 monthly. Whereas, Reddit premium is available for $5.99 monthly and $49.99 yearly.
G2: Not Available
Capterra: Not Available
Speech-To-Text Software (Transcription Services)
GoTranscript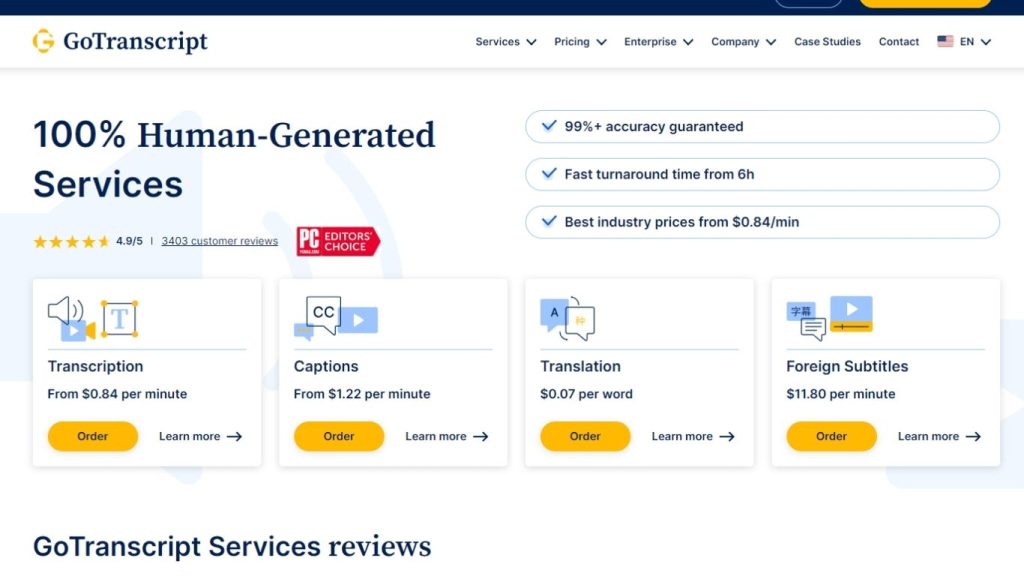 GoTranscript is a professional transcription service that offers accurate and efficient audio and video transcription solutions.
Features: Its main features include a team of skilled transcribers, ensuring high-quality and error-free transcriptions. GoTranscript supports multiple file formats and offers quick turnaround times to meet tight deadlines.
The platform caters to various industries, including media, academics, business, and more. With its user-friendly interface, clients can easily upload files, track orders, and download transcriptions hassle-free.
Cost: Its five days service will cost you $0.84 /min, three days for $1.03 /min, one day for $1.22 /min, and six to twelve-hour service for $2.34 /min. Moreover, you can also get the cost estimation per your work from the official website.
G2: Not Available
Capterra: 3.9/5 (11+ reviews)
Dragon Anywhere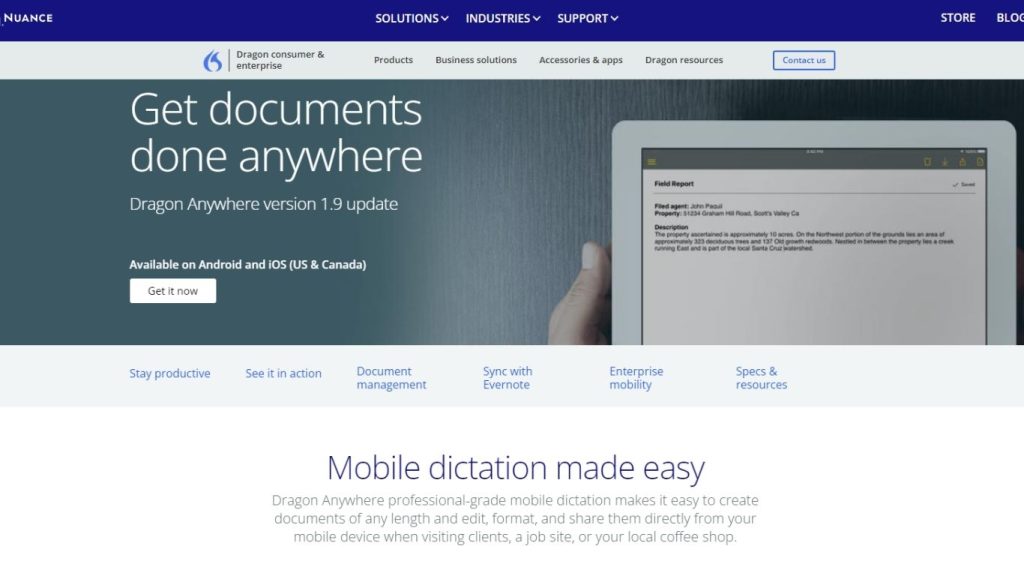 Dragon Anywhere is a powerful mobile dictation app developed by Nuance Communications. Users can create documents, reports, and emails by simply speaking into their mobile devices.
Features: Its key features include real-time transcription, enabling immediate speech conversion to text. The app boasts exceptional accuracy and supports custom words and formatting commands for personalized dictation.
Dragon Anywhere allows seamless synchronization across devices and integrates with cloud services for easy document access.
Cost: It is available for $15 per month.
G2: Not Available
Capterra: 2.3/5 (3+ reviews)
Rev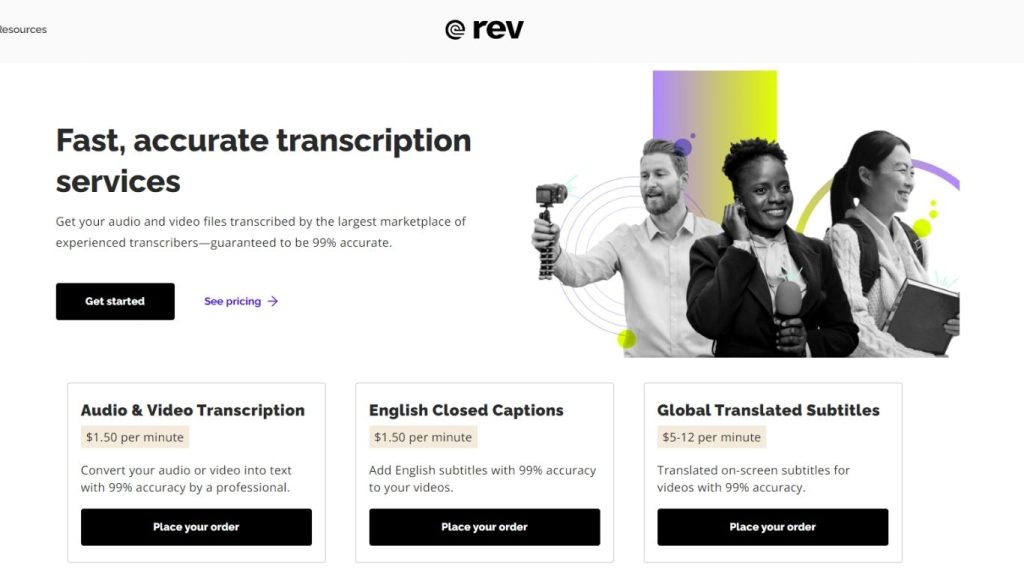 Rev is a renowned online platform that offers a wide range of audio and video transcription, translation, and captioning services.
Features: Its features include a network of skilled human transcriptionists and translators, ensuring accurate and high-quality results. Rev supports various file formats, making it versatile for different types of content.
The platform provides quick turnaround times, meeting tight deadlines without compromising quality. Its user-friendly interface allows clients to easily upload files, track progress, and receive completed work efficiently.
Cost: You can get automated transcription for $0.25 per minute, human transcription for $1.50 per minute, English captions for $1.50 per minute, and global subtitles for $5-$12 per minute.
G2: 4.7/5 (310+ reviews)
Capterra: 4.7/5 (47+ reviews)
FAQ's:
What To Look For in the Best Writing Tools?
Choosing the best writing tool can be difficult with so many options available. Look for the following factors to make the right decision:
Top Features
Cost-Effectiveness
User-Friendliness
Fresh Content Ideas Generation
Customization Options
Integration Options
Plagiarism checker
SEO-optimization
What are the limitations of AI writing tools?
Limitations of AI writing tools include potential errors in understanding context, lack of creativity or originality, difficulty in handling complex topics, and the inability to generate emotional or empathetic content. Human editing is still necessary to ensure the highest quality and authenticity of written material.
How do artificial intelligence tools affect the writing industry?
Artificial intelligence tools have significantly impacted the writing industry by restructuring content creation processes, enhancing grammar and spelling checks, and offering content optimization for SEO. They enable writers to be more productive and produce higher-quality content.
To Sum Up
These creative writing tools have radically altered the writing industry, like other AI tools, which have taken the world by storm. It is too early to claim they can replace content writers because they still have certain limitations.
However, you can use them to ease and speed up your writing tasks while proofreading at the end to add a human touch to it. Using these plenty of writing and editing tools, you can surely end up creating a masterpiece. Happy Writing!